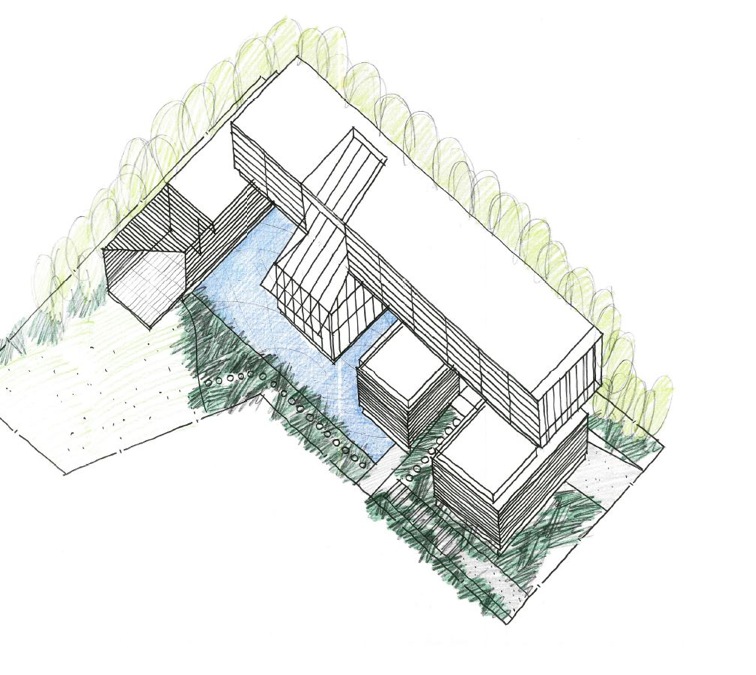 This scheme utilises a series of 'Pavilions' to integrate a series of disaggregated house 'blocks' with sequential and separate outdoor garden and play areas. The Pavilions provide for zoning of the various functions of the House, and interweaves the outside with the inside. Operable walls allow for whole sections of wall to be lifted or pulled away, and enhance the feeling of connection with the garden and outdoors spaces.
Living spaces are surrounded by water, with views over to lush garden spaces. This encourages relaxed, casual interaction with the outside. It might be possible to jump in for a swim from the kitchen after breakfast, or watch the kids swimming while relaxing with guests in the formal lounge.
All living spaces face north and the separation of pavilions allows for sun to enter at various times throughout the day. Bedrooms are provided northern frontage with views down to the pool, garden spaces below and district views beyond. Roof sections over the lower floor are put to good use as entertaining areas and private outdoor garden spaces for quiet reflection.
A large format, special and unique pool is proposed that surrounds the living spaces and interweaves with three of the four ground floor pavilions. This provides for passive surveillance of the pool and casual interaction, is inviting and encourages usage, cools outside air as it moves about the house, and provides for tranquil views and a rested feeling from within.
At night the pool will sparkle with mystery and reflection.